Sahra Kress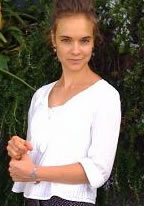 Registered as a midwife in New Zealand since 2004, Sahra approaches her work with women and their families guided by respect, coupling an emphasis on safety with the belief in optimising the potential for a positive experience whatever the journey. She is passionate about the individual and extraordinary nature of childbirth as a growth potential, and deeply understands the significance of parents being empowered as they meet their baby, and beginning their parenting journey from a position of strength.
Originally from Germany, Sahra grew up in the Rocky Mountains of New Mexico, and spent five years living by herself as she in a rustic cabin herding goats, making cheese, and watching kids born in the spring. Sahra also spent some time observing the work of several homebirth midwives, but when looking beyond their small practice, was frustrated by the lack of continuity in the state maternity system, the lack of choice for women. While living with an Amish community this lack of choice and medicalisation of childbirth was starkly obvious and became a driving force in her pursuit of midwifery. She was strongly impacted by seeing Amish women taken out of their simple communities to birth in a massive industrialised hospital, as birthing at home was illegal in that State, and there was no skilled medical care for women to birth in their own community. She envisaged a space of greater support – in whichever environment the woman and her family chose.
New Zealand proved a country of greater social awareness, offering an education in midwifery that reflected the union of safe, evidence-based care with consideration for individualised care and nurturing of childbearing women and their families.
Over the last few years Sahra has pursued an avid interest in working with birthing women in resource poor countries. Time spent working in the slum hospital of Port Vila, Vanuatu (2008), provided valuable exposure to raw medical care and the challenges of working in a very different context. This experience was broadened and taken to a far greater depth when she spent time in an extremely remote setting in the hinterland of Papua New Guinea (2010), faced by the challenge of providing care with no option of transfer to medical backup. The contrast to the challenges faced in a New Zealand birthing setting have given her an overview of differing needs in supporting birth.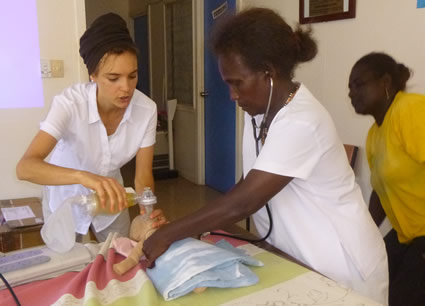 In 2015 Sahra spent several months at a remote hospital in the Solomon Islands teaching emergency skills and constructing a curriculum in maternity care for the only teaching programme for maternity health care workers in the region.
In 2016 (and 2018) she was invited to return to Vanuatu for two months to focus on emergency training of the NiVanuatu midwifery students. This was part of the first year of an actual specialisation in midwifery for nurses with at least five years' experience who often work sole charge very remotely.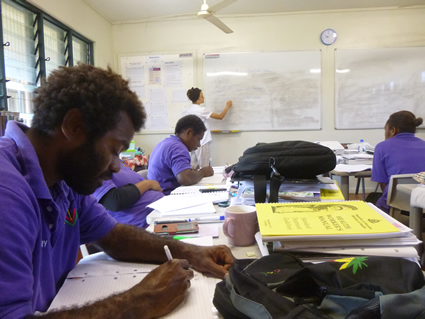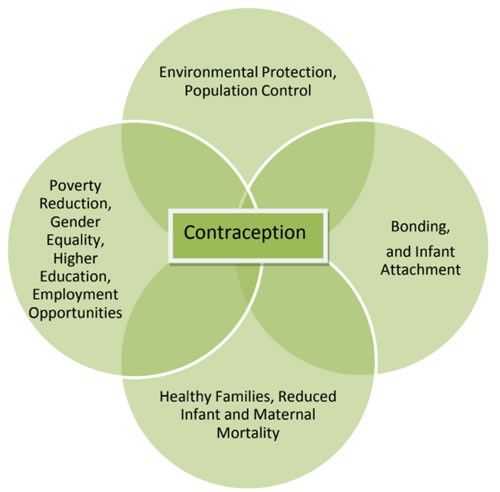 Sahra began postgraduate study in Global Maternal Health in 2017, bringing together her passion for equity and physiology in a satisfying and stimulating new challenge. In 2019 she took on the significant challenge of conducting her own international research study, looking at access to contraception for women in rural Solomon Islands. The role of family planning in Sustainable Development highlighted the need to enable local solutions, and how this applies from micro to macro issues. This led Sahra to return to Kapiti with a renewed dedication to the principle of "think global, act local".
Sahra is deeply concerned about the future for the children she delivers. Caring for mothers, empowering them to begin their parenting journey in the strongest position possible, has expanded to wanting to contribute to ecological health, so children can grow into a hopeful future. She volunteers every week with a local restoration group, is active in advocacy for cycling and reducing transport emissions, and is carefully considering becoming more involved with local politics.
Below is her research article, published in the Pacific Journal for Reproductive Health:
Click here for the article: "Addressing the unmet need for family planning"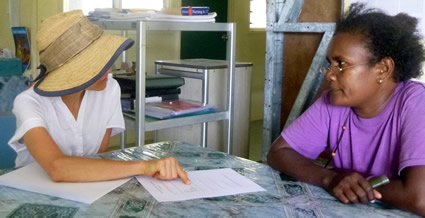 Previously Sahra wrote about the influence of Chaos and Complexity Theories on childbirth which was published in MIDIRS, an international journal. In it she makes clear her position for the need to decrease unnecessary medical interventions in normal birth. She has always been particularly interested in the potential transformative nature of birth, and the impact of strong maternal/infant attachment on ongoing parenting. She also enjoys regular mentoring of student and new graduate midwives. She remains committed to continual theoretical and clinical development to enhance and broaden her fascination with, and dedication to the significance of birth and the potential of this inflection point in life.
Click here to download an article written by Sahra.