Sarah Bromley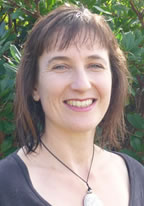 I have been practicing as an independent midwife on the Kāpiti coast for the past 13 years, and have been part of the Nikau Midwives team for the past 10 years. I live out in Reikorangi in the beautiful countryside with my partner and our teenage children.
I specialise in postnatal care, this is an area of midwifery that I really enjoy and feel very passionate about. I feel privileged to work with women in this context, and feel that working with women who may have been unable to have an independent midwife involved in their care antenally really appreciate the devoted care and support that I can provide them with.
Midwifery has always been a part of my life, as my mother was a homebirth community midwife in England in the 1960's prior to emigrating to start a new life in New Zealand.
I travelled widely before settling back in New Zealand to raise my family, living and working in various countries, I worked as a volunteer for an NGO in the Himalayan foothills in Uttar Pradesh, in northern India, providing both educational support (as a qualified teacher), as well as emergency healthcare within a remote rural environment, sometimes spending days trekking to isolated areas in need. I look forward to the time when I can pursue further work in this field within the international midwifery community.
My midwifery philosophy is based around viewing childbirth as a normal, and joyous life event, involving women and their whanau. I believe in a relationship with women built on informed consent, providing safe and effective evidence based practice, allowing and encouraging a fulfilling journey through pregnancy, childbirth and the postnatal period.
I am trained in acupuncture, having completed a year long programme in acupuncture for midwives with the New Zealand School of Acupuncture 10 years ago.
I am currently working part time, and also enrolled in an Arts and Creativity degree programme at The Learning Connexion. When I am not working or studying, I spend the majority of my spare time in our permaculture gardens and orchards, with the chickens, sheep, ducks, chickens, cats, dog, and bees, living the dream!