Andrea Sarty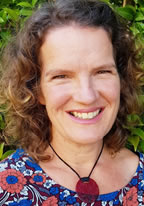 I was inspired to become a midwife by the awesome care my family and I received from my midwives when I had our three children. It showed me what a difference skilled support could make in people's lives. I then worked in birth and parenting education for ten years, helping others to have fulfilling birth experiences. I became a midwife to be able to provide even more care for growing families.
I love the journey with each family and whānau in their pregnancy, as they meet their babies and as they get the hang of parenting their new small person. Along the way I share information to help people make choices that feel right for them. Birthing at home, the Paraparaumu birth unit or in Wellington Hospital are all options for women I work with.
I work closely with the lovely team at Nīkau Midwives and have good relationships with health professionals you may encounter.
What the families said:
"Andrea really listened to what we wanted, heard our concerns and answered our questions."
"Really thrilled with her thoroughness, knowledge, manner and humour."
"She was caring, supportive and knowledgeable. Both my husband and I were very pleased we had Andrea as our midwife and would recommend her to any potential new mum."
"She was easy to talk to and very professional. She stayed calm and focused when things got a bit hectic. If I would have another baby, I would go back to her immediately ( : "
"Excellent care provided. Support was amazing. Wonderful birthing experience."